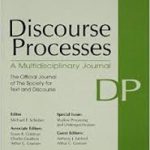 The persuasiveness of anecdotal evidence and statistical evidence has been investigated in a large number of studies, but the combination of anecdotal and statistical evidence has hardly received research attention. The present experimental study therefore investigated the persuasiveness of this combination. It also examined whether the quality of anecdotal evidence affects persuasiveness, and to what extent people comprehend the combination of anecdotal and statistical evidence. In an experiment, people read a realistic persuasive message that was relevant to them. Results showed that anecdotal evidence does not benefit from the inclusion of statistical evidence, nor from its intrinsic quality. The analysis of readers' cognitive thoughts showed that only a minority of participants comprehended the relationship between anecdotal and statistical evidence.
Hornikx, J. (2018). Combining anecdotal and statistical evidence in real-life discourse: Comprehension and persuasion. 

Discourse Processes, 55 (3)

, 324-336.