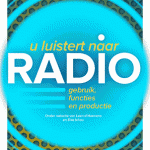 Voor traditionele media zoals radio zorgt de toegenomen cross-platform mediabeleving tegelijk voor een bedreiging als een opportuniteit voor het verdienmodel. De toename aan meer visuele en interactieve kanalen via het internet houdt in dat een kleiner stuk van de reclamekoek van mediaplanners naar radioreclame zou gaan. Anderzijds biedt een cross-platform strategie ook opportuniteiten. Cross-mediale advertentiecampagnes bereiken de consument namelijk op een meervoudige manier en zouden zo tot sterkere effecten kunnen leiden. Voorveld (2011) bestudeerde als eerste de effectiviteit van simultane cross-mediale reclame: reclame die tegelijk via (internet)radio en internettekst de consument bereikt. Zij toonde aan dat deze aanpak tot betere herinnering, attitudes en aankoopintenties leidde dan advertenties via een enkel medium. In dit hoofdstuk bespreken we de relevante literatuur over cross-mediale reclame en vullen we die aan met een studie die het onderzoek van Voorveld (2011) conceptueel repliceert en nuanceert. In een online setting zagen deelnemers een nieuwspagina en luisterden ze tegelijk naar een radiofragment. De advertenties in beide kanalen werden gemanipuleerd zodat iedereen de doeladvertentie voor Ford of op twee internetpagina's zag of eenmaal zag en tegelijkertijd een radiocommercial over Ford hoorde. In tegenstelling tot vergelijkbaar onderzoek (Smits & Hornikx, 2013) resulteerden advertenties die crossmediaal werden aangeboden niet in betere reclame-effecten dan advertenties die tweemaal op internet aangeboden werden. Bovendien bleek dit verschil niet afhankelijk van hoe skeptisch men staat ten opzichte van dit type marketingtechniek stond.
Hornikx, J., & Smits, T. (2014). Van traditionele radioreclame naar cross-channel multitasking reclame: wat is de meerwaarde? In d'Haenens, L., & Ichau, E. (Ed.), 

U luistert naar radio: Gebruik, functies en productie

(pp. 133-147). Gent: Academia.